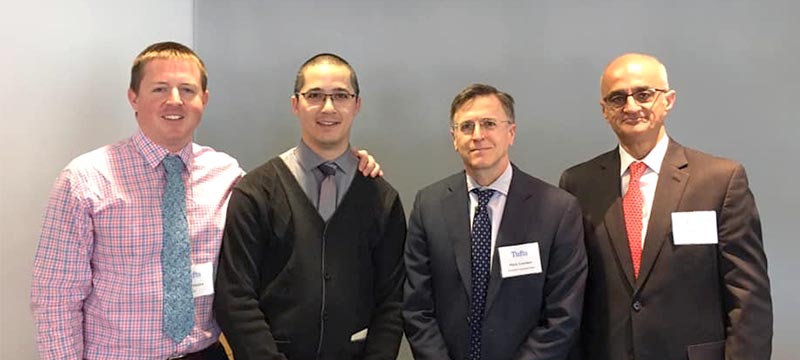 While new students at Tufts University School of Dental Medicine (TUSDM), Iraq War veterans Dr. Keith Nguyen and Dr. Brent Mullen became friends and began volunteering with Team Red, White, and Blue at the New England Center and Home for Veterans (NECHV) by serving meals to veterans facing temporary homelessness. Keith and Brent wanted to do more to give back to their veteran comrades and to honor their friends whom they served with who made the ultimate sacrifice for the love of their country. They began brainstorming how they could combine their passions- helping fellow veterans and oral health care.
While at TUSDM they partnered with faculty in the department of Public Health and Community Service to create Service With A Smile, a student run organization dedicated to improving the oral health of veterans. The first group of student volunteers, led by Kathryn Dolan and Dr. Gerard Kugel, hosted their first screening at the NECHV in June 2019. Service With A Smile's goal was to connect each veteran, especially those experiencing homelessness, to a dental home for comprehensive oral health care.
Tufts University School of Dental Medicine is the first official chapter of Service With a Smile and the headquarters for the organization. The priorities remain the same, with a focus on growth and longevity.
The team has their sight set on continuing to build a strong program in the Greater Boston Area, with plans to eventually expand beyond Boston. Service With A Smile's vision is to utilize the talents and energy of dental students with the knowledge and passion of dental school faculty across all 68 dental schools in the US, ultimately improving veteran access to oral healthcare on a national level.